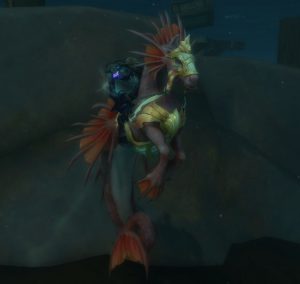 I know there are several other guides and posts out there that explain how you can get the Crimson Tidestallion. However, none of those web sites explain it with my flair. Before you can do anything, you will need to free Mrrl and escort him back to your faction's respective base. After doing so you will meet his friends Flrgrrl, Mrrglrlr, Hurlgrl and Grrmrlg. They all sell some very unique and unusual items.
Dress for the Occasion
Mrrl's secret items can only be available if you're wearing the right cloak. You need to get the Azsh'ari Stormsurger Cape which you can get from Benthic Cloak. Benthic Cloak's can come from missions, a random drop or you can purchase it for 5 Prismatic Manapearls. You are not guaranteed to get the Azsh'ari Stormsurger Cape from a Benthic Cloak, it's one of four, so that's fun. Once you have the cape then you have to wait until Mrrl is selling the Crimson Tidestallion. WoWHead is pretty good about letting you know what secret items are available to buy. NOTE: You must be wearing the cape to see the items! So don't sell/disenchant it until you are done with it.
The Trading Game
When the mount is available, the trading game begins. This is one of those classic scenarios where you need to buy something for someone from someone else but they want something first. The best website to help you figure out what you need to buy is to use the Mrrl.io website (because math is hard). In order to buy the mount from Mrrl you need 4 Cultist Pinky Finger, 2 Pulsating Blood Stone and 1 Hungry Herald's Tentacle Taco. You will spend about 1,796 gold, but that is incredibly cheap compared to the price of other mounts in the game.
The item that will prove to be the most tricky is Hungry Herald's Tentacle Taco. Mrrl and none of his friends sell this item. You can only get this item by rescuing Murloco, which is a rare event in Nazjatar. You can click on the map on the right to enlarge to see the location of Murloco's cave. Once he's been rescued, you have 5 minutes to buy from him. If the event is not up on your server you can search in Custom Groups using the LFG tool, simply search for "murloco". NOTE: Make sure you are in the cave when you join the group, he's only active for 5 minutes.
That's it. Once you have those 7 items, and you are wearing the cloak, you can buy the Crimson Tidestallion from Mrrl. Of all the rare mounts available in the game, this one is pretty easy to get.
If zombies attack the world, everyone will run and hide. Except for us gamers, of course. We've been waiting for this all our lives!