Issue #142: April Greetings, Gamers! Another April Fools Day has come and gone and the Internet tried their hardest to April Fool us all. I humbly admit that I rarely succumb to an April Fools prank. In fact its probably been high school since I last fell for a prank; in fact you better have hard evidence if you want to tell me anything serious on 4/1 because I believe nothing! Every year I love to see what Blizzard comes up with, in fact one of the posts in this issue covers some of the best and worst Internet April Fools jokes.
If you're into the whole NCAA basketball tournament stuff, I'm sure you're bracket is busted by now and you're back to video games instead of that athletic stuff (sweating is gross). So check out the latest news about some of your current and favorite games. Neverwinter has a warning for players, Superman plays WoW, Hearthstone talks about Old Gods, Heroes of the Storm and Overwatch finally meet. There are a few fun and interesting articles to check out in this issue. KCGO.
2016 April Fools Internet Pranks
Posted 4.1.16
– As I mentioned above, there is the link to the best and worst Internet April Fools pranks. You may have been a "victim" of a couple of these, although if you are a fan of any of Blizzard's games then you were prepared for silly announcements. Personally I think Google wins both the best and worst prank this year; I loved the Google Cardboard Plastic marketing video.
Kotaku post
PC Requirements for Legion
Posted 4.1.16 – When a new PC game, or game expansion, comes out the one question you should always ask yourself is "does my PC meet hardware requirements?" While we don't seem to have a release date for World of Warcraft: Legion yet, Blizzard has provided the minimum specifications your PC will need to enjoy the game properly. No, this is not one of Blizzard's April Fools jokes. This article is actually a pretty good read to prepare you for the upcoming expansion, unless you're like me who is OCD about keeping my computer up-to-date – then you have nothing really to worry about.
Blizzard Watch post
Raiding Is Serious Business
Posted 4.2.16
– I thought this was pretty funny. The
Man of Steel
was almost too busy raiding to play Superman. Henry Cavill is a known WoW player and, apparently, when Zack Synder reached out to Cavill to ask about the role, he almost didn't answer because he was busy in a WoW raid. If you think I'm making that up, check out the link which includes the interview he gave, with Ben Affleck, on a recent airing of Conan. Hilarious!
polygon post
Neverwinter Warns of Nerfs
Posted 4.3.16 – It looks like most classes in Neverwinter are going to get smacked with the old Ghostcrawler nerf bat, but this time they are warning all the players that its coming. If any of them are current or former WoW players, they may have all gone into shock because they were warned ahead of time. Blizzard was notorious for hitting a class with the nerf bat and simply referring to it in the patch notes as "class adjustments". Oh how the Ret Paladins use to whine!
Massively Overpowered post
Second Overwatch Short
Posted 4.3.16
– In the last issue I posted the link to the first animated short Blizzard is publishing leading up to the launch of their newest FPS IP, Overwatch. This one focuses on Widowmaker and Tracer (without the booty tooch victory pose, of course – although if those were my glutes I would want to flaunt them too). I can't wait to play this game. I think its going to be a lot of fun and will take me back to the old Half Life days (where I could pound a 12 pack of Mt Dew and never gain an ounce). Click the link to check out "Alive".
Blizzard Watch post
Tracer Coming to HotS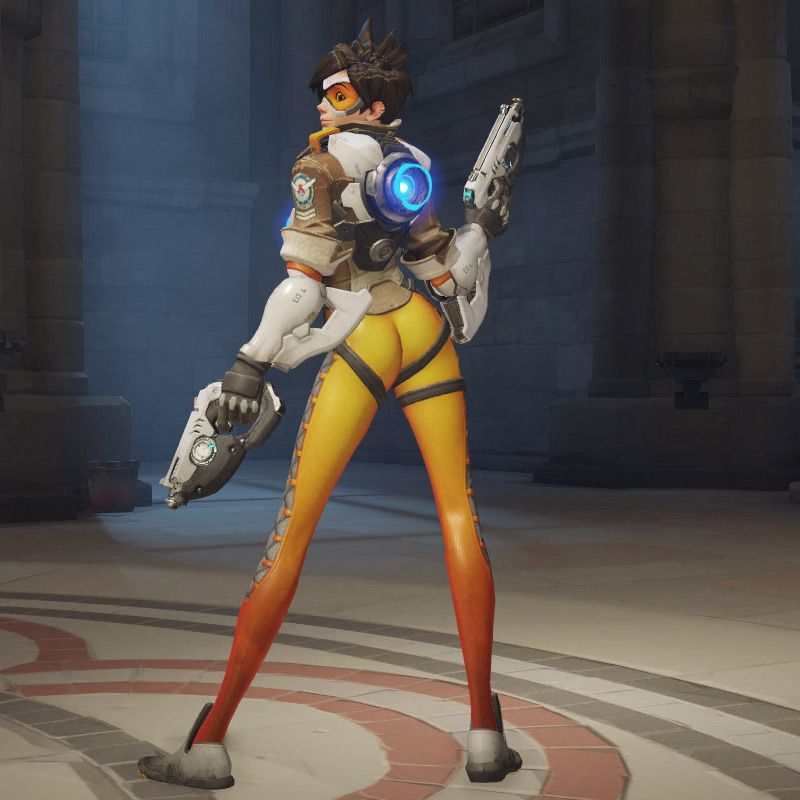 Posted 4.4.16 – Speaking of Tracer (and her fabulous booty), if you pre-ordered Overwatch then Tracer will be a playable hero in Heroes of the Storm on April 19th. I think Tracer is going to be a really fun hero to play in Overwatch and she looks just as much fun in Heroes of the Storm. There is a video that demonstrates her abilities. She is the first Overwatch character announced for Heroes of the Storm, I'm sure more of them are on the way.
Kotaku post
All the Whispers of the Old Gods
Posted 4.4.16

–
I'm sure you haven't forgotten about the upcoming new Hearthstone expansion,
Whispers of the Old Gods
. Well, if you have quite a bit of time to kill, Blizzard Watch has provided details on all of the 134 cards in the expansion. I'm just going to warn you up front, there are 46 pages to this post so proceed with caution because its almost too long to even qualify as TL;DR. Although, I guess if you are a competitive player then the 46 pages of research might be beneficial.
Blizzard Watch post
The MMO Times is a post I put together periodically of different MMO/gaming news articles that I think are interesting, fun and/or exciting. If you are interested in receiving these posts in an e-mail please click here to subscribe.