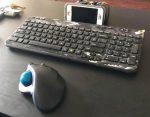 I call this a gamer's blog but I haven't posted anything related to gaming all year, so I'm overdue for some gaming ruminations. The reason, primarily, is that I'm only really playing one game and I'm sure there aren't many interested in more World of Warcraft posts. If you're interested in a brief raiding update on our progress in Battle of Dazar'alor, we're 9/9 in Normal (i.e. farm status), and 3/9 in Heroic (with more to come tonight).
I jump into Overwatch occasionally, but not with any regularity. I don't have any of the other Blizzard games installed anymore. I jump on the Switch every now and then to play some Mario Kart, Mario Odyssey or Smash Brothers. Some of you may remember that I used to post, almost weekly, a recap of gaming news. However it became too difficult to keep up and there seemed to be no interest. Besides gaming news today has stalled or rarely contains any more surprises.
Be that as it may, I'll try to mix in more gaming posts as inspiration strikes. However I don't foresee any more recurring posts like I used to do with MMO Times.
The things that go through my mind when I'm alone with nothing but my thoughts for entertainment is dangerous. Some might even say eccentric. Consider this your warning about today's Random Thought of the Day