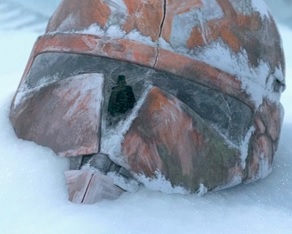 We finally got to see the end of Dave Filoni's Star Wars masterpiece. We've been waiting since April of last year. Of course if you've seen Solo, read E.K. Johnston's book or you've seen past the first season of Rebels, you know a little bit about how it ends. There are 12 episodes in the Clone Wars series finale (i.e. Season 7), broken up into three 4 episode story arcs.
In the first story arc we meet "The Bad Batch" which is a group of genetically mutated clones. A spin-off series of these guys would be fun to watch. Then we meet a pair of sisters that befriend Ahsoka as she helps them out of a nasty situation with the Pykes. Of course Ahsoka's return is the most anticipated story arc.
Ahsoka Returns!
The ninth episode is when Ahsoka is reunited with the 332nd, her battalion of clone troopers. My favorite part of the final four episodes is that they coincide with the events of Revenge of the Sith (up to and including Order 66). I love how well Filoni merged the the episodes into the movie's story, including voice reprisals by Samuel L. Jackson and Silas Carson. The final moments of episode twelve were amazing and heart wrenching.
You know the saying "Go Big or Go Home", well Filoni definitely "went big" to cap off this amazing series. I love that he invited Ray Park back so they can use motion capture for the fight sequence between Maul and Ahsoka. This really adds an awesome level of commitment to properly finishing the series. In fact these last four episodes were among the best in the series, second only to the Mortis story arc.
Thank you to Dave Filoni and all the amazing voice actors that make this series so amazing.
/MTFBWY
The Force. It calls to you. Just let it in.