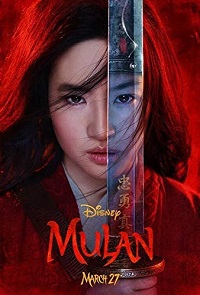 Mulan
Directed By: Niki Caro
Starring: Liu Yifei, Donnie Yen, Jet Li
My Rating: ★★★★★
I know this movie came out over a year ago and it was not popular among Disney fans. They are complaining that it's a terrible animated-to-live-action adaptation. I should know better than to listen to "fans". These days the only thing "fans" do is complain (I'm looking at you alleged "Star Wars fans"). It wasn't until my wife watched this movie on Disney+ that I finally saw it.
Unpopular opinion, I disagree with all the Disney princess fans. This is the Mulan movie we should have gotten back in 1998. Don't get me wrong, I love Ming-Na Wen's Mulan (who makes a cameo at the end), but it's just another Disney princess love story.
It's About Culture (and Kicking Ass)
A key indicator as to whether I really like a film is if I'm looking up the trivia on IMDB to learn more. I did this for this movie. It wasn't a surprise to read that it was a conscious choice to stay "true to Chinese culture and traditions". This is why Mushu is missing, which fans also hated. He is essentially replaced with the phoenix, a significant symbol in Chinese culture. Also, the phoenix happens to be one of my favorite mythical creatures. Martial arts is also a staple of Chinese culture and this is a Disney princess martial arts film.
Ask anyone that knows me well and they will tell you that I'm a sucker for a martial arts film. It's exciting to see Jet Li back in a "martial arts" film although I think he's retired from martial arts. This is probably why we don't see him perform much in the film. However Donnie Yen and Liu Yifei make up for that. In fact Liu Yifei is a trained sword fighter. It turns out she is in a movie called The Forbidden Kingdom where she "held her own" against Jet Li and Jackie Chan.
Listen. If you want to see a live-action version of the 1998 film, then keep waiting. This movie is not it. However if you want to see Mulan kick ass as a sword fighter and martial artist, then you need to check out this movie.