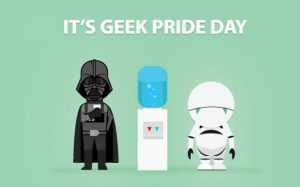 Welcome to Geek Pride Day 2018! This is a day of jubilation starting back to 2008 in which we celebrate geek culture. Let's be honest with ourselves, we are all geeks about something. Anything that you enjoy doing or something you are passionate about earns you the geek moniker. Many of us probably started earlier, like high school (or even prior to that). Back then the geek label often indicated how much smarter you are than your classmates. It also marks you as someone who may lack certain social skills, primarily because our interests were esoteric and unorthodox (comparatively speaking).
Be that as it may, there are two significant geek events that marks this day with Geek Pride. The twenty-fifth of May is the anniversary of the release of Star Wars (A New Hope) and it's Towel Day. Also this year, we mark Geek Pride Day with the release of Solo: A Star Wars Story!
WTF is Towel Day??
I shouldn't need to elaborate on the anniversary of Star Wars A New Hope. If you don't know what that is, return to your planet because you're not human. Some of you may know what Towel Day is, especially if you saw any of my previous Towel Day posts. For those that don't know, it is the day we celebrate the work of Douglas Adams, he is the author behind the Hitchhikers Guide to the Galaxy books. The easiest way to celebrate Towel Day is to simply carry a towel with you, wherever you go. Why a towel you ask? Well, according to the Hitchhikers Guide to the Galaxy:
A towel, it says, is about the most massively useful thing an interstellar hitchhiker can have. Partly it has great practical value.
If you check out on the Towel Day Wikipedia page the guides goes into much more detail. The movie is a decent interpretation however, I highly recommend reading the books. Just keep in mind that Douglas Adams is pretty wacky, and utilizes quite a bit of dry British humor. Therefore, as a final homage to Geek Pride Day, I leave you with more Vogon Poetry, entitled:
Ode to a Small Lump of Green Putty I Found in my Armpit One Midsummer Morning
Putty. Putty. Putty.
Green Putty – Grutty Peen.
Grarmpitutty – Morning!
Pridsummer – Grorning Utty!
Discovery….. Oh.
Putty?….. Armpit?
Armpit….. Putty.
Not even a particularly
Nice shade of green.
As I lick my armpit and shall agree,
That this putty is very well green.
So long and thanks for all the fish. MTFBWY.
---
"When I was a kid, it was a huge insult to be a geek. Now it's a point of pride in a weird way." – J.J. Abrams