The 2018 Reading Challenge was 12 books. Since I barely missed 15 books from 2017, I actually started the year at 15 again thinking I could easily complete it. Half way through the year I was nearly 4 books behind so I reduced it down to 12 books.
I wish there is some brilliant excuse I could use to explain why I only read 9 books. I hit a huge lull late in the summer, which is right around the time I got a new First Reads book from Goodreads. Little did I know that book is over 600 pages. When it's past June I rarely try to start a book that long so late in the year.
My 2018 Reading Challenge Book List
At any rate, below you will see the list of books I did read in 2018. I tried to write a review for all of them so feel free to click on the name if you're curious about my thoughts. Below the list is the book I chose as the 2018 Best Read.
My Pick for the 2018 Best Read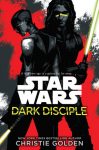 Picking the best read for 2018 is difficult. These are 9 excellent books to choose from so its hard to pick just one! I want to go with Timothy Zahn, the man, the myth the legend. However, picking Timothy Zahn won't work because 1) I read two of his books and I can't pick just one; and 2) it's Timothy frakking Zahn! It also wouldn't be fair to pick Ready Player One because I re-read that one and I'd prefer to pick something that I hadn't read before.
So there are the immersive worlds and cultures of the Olympus Union and the Shadowhunters, the suspenseful time travel of Executed or the remaining Star Wars books. It's hard to pick one but I feel obligated to do so. I really enjoyed reading about Phasma's origin and Ahsoka is my absolute favorite Jedi Padawan. However I've always had a soft spot for Ventress so learning more about her as written by Christie Golden is serendipitous. It is for that reason that I chose Dark Disciple as the 2018 best read.
FWIW, I recommend reading every book on this list!
"The more that you read, the more things you will know. The more that you learn, the more places you'll go."
– Dr. Seuss